15:00
Check into Kelly's Hotel, George's Street
A historic building with a minimalist approach to design. Kellys is a 17-bedroom hotel located on three different floors. A small entrance hidden on the corner of South Great Georges St and Fade St will take you to the first floor reception area.
17:00
Enjoy a whiskey in the City's only secret whiskey bar, Wsky.
https://marketbar.ie/wsky-bar/
Dublin's best-kept secret, a gem that has the finest selection of whiskeys from around the world for you to taste with your friends.It gets its name from the first ever baby bottle of whiskey ever made by Powers whiskey in 1889. These 'Baby Powers', as they became to be called, where in fact bottled right there in The Market Bar.
Entrance is found through Market Bar or the back of the Blindeye Barbers.
18:00
Head a few doors down to the epic restaurant tucked away above The Rustic Stone, Taste at Rustic
https://www.tasteatrustic.com/
A food experience by Dylan McGrath to explore the idea of flavour, tastes and in the room cooking, while being influenced by Japan, Spain and South America
20:00
Meander around to the Sugar club on Leeson Street to enjoy a night of epic tales at the city's famous Story Slam
https://www.thedublinstoryslam.com/
'The Dublin Story Slam was born in May 2017 and shares true personal stories from listeners through our Podcast, live events and social media. From the very start we were passionate about creating a Dublin space where people from all kinds of backgrounds can get together to share & listen to stories. We believe in the power of storytelling, the healing power, the bonding power and the lasting power of stories that can stun a room into complete silence and make it erupt into laughter a second later.
However we also believe in the power of listening. It's incredible to witness the impact a receptive and warm audience can have on a nervous first time storyteller and watch how more confident and relaxed they become as they realise that the audience really wants to hear their story. It's this unique relationship between storyteller & audience that makes The Dublin Story Slam such a unique space for stories'
09:00
Enjoy breakfast in the hotel
10:00
Grab an iced coffee in Coco Brew
Cocobrew is a speciality coffee and superfood brand sold from their Cafe in Temple Bar
11:00
Head to City Kayaking on the Custom House Quay to Experience one of their intimate kayaking concerts on the Liffey
https://www.facebook.com/events/337011710586530/
'A very special Session of Kayaking and Music! Some of the best musicians in town will play for you UNDER the most iconic bridges of Dublin! The acoustics are unbelievable and the atmosphere on the water is magic!
We will get onboard our stable "sit on top" kayaks (ideal for beginners) and paddle towards the city centre and back stopping under a few bridges where the musicians will play originals for you, adding a little touch of poetry and history of the city on the way. This private concert sums up what Dublin is about: good "craic" with friends, laughing, singing along, while taking in breathtaking city views.
The whole experience will last about 2.5 hours'
14:00
Enjoy Lunch in the Woolen Mills
The Woollen Mills has been one of the most iconic buildings and businesses in Dublin for over one hundred years (James Joyce worked in this building!). 'A house of food, a place to grab a serious coffee and bun, a serious plate of Irish ham and chips, a place to take home a box of salads and scones, sourdough and sausage rolls, or sit with seven courses of anchovies and crab and herrings and pork and beef rib, overlooking the Ha'penny Bridge and the River Liffey with a fine bottle of red. or a craft beer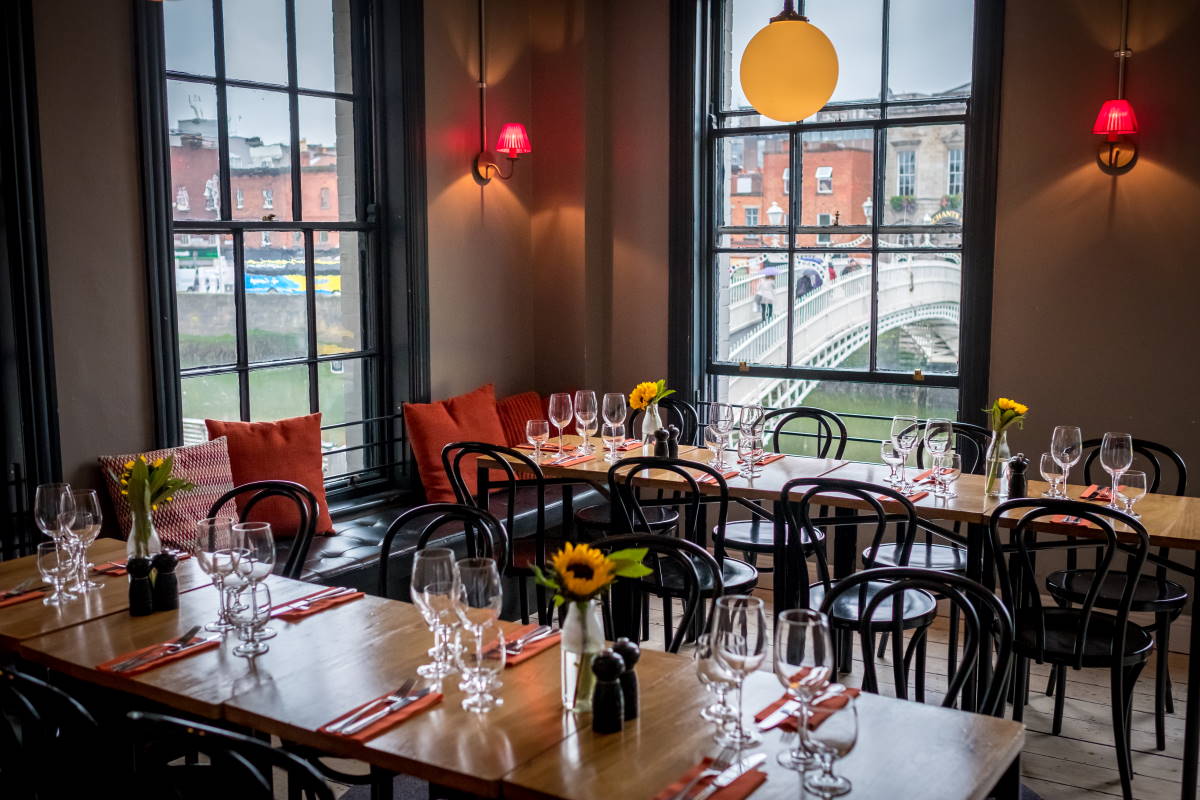 17:00
Savor a pint of the black stuff in Frank Ryan's, Smithfield
'Your local cosy bar in the centre of Dublin'
18:00
http://www.lilliputstores.com/
Head to Lilliput Stores for an epic feast. A dinner at one of their infamous 'Lilliput Evenings' of beautiful food and live music
Located in the heart of Stoneybatter in Dublin's north inner city, Lilliput Stores is a greengrocers, deli and coffee shop. This local store carries as much as its shelves can bear, with an emphasis on quality, taste and provenance
21:00
Enjoy a nightcap in Bonobo
09:00
Enjoy Breakfast in the hotel
11:00
Get some takeaway sandwiches from Green Bench and take them to Stephen's Green where you can soak up the atmosphere at the bandstand's weekly swing picnic
https://www.jazzireland.ie/jazz-events/gig/3061-dublin-swing-picnic.html
Sit back and enjoy the beautiful dancing as you chow down on some of the best sandwiches in the
city
13:30
Head to Tara Street Dart Station, stopping along the way to get a coffee in Shoe Lane
Step back to the 1800's, the vintage Singer machines and traditional shoe making materials in the window of our first busy little coffee shop would have been making shoes on the same spot. The sewing machines and wooden lasts in the window were donated by the nearby Tara Leather, the last of a row of cobblers that made up 'Shoe Lane', now known as Tara Street.
The vintage timber you can admire in both locations is over 150 years old, was salvaged from a nearby warehouse and used to handcraft the floorboards, seating and counter. Instead of fashioning footwear, we are crafting speciality coffee for the fleet of commuters and caffeine lovers that flock here in search of a quality cup
14:45
Get off at Dalkey and walk towards Vico Baths where you'll enjoy a beautiful sea swim
http://outdoorswimming.ie/Co/Dublin/vico_road.html
'The trick with this swimming spot is to find it; keep a close eye out and follow the directions on the site above'
17:00
Head back southwards on the Dart, getting off at Dun Laoghaire, get a steamy bag of fish & chips in Miami Cafe and take it to the pier to enjoy one of the best views in the city
https://miamicafetakeaway.com/
'The trick with this swimming spot is to find it; keep a close eye out and follow the directions on the site above'
19:00
Get the Dart back to Tara Street. Not done yet? Stop off in the Palace Bar, one of Temple Bar's best locals for a thirst quencher

Victorian bar with stained glass skylight and timeless ambiance for hosting Irish music sessions
And herein lies the end of your amazing Dublin adventure, I hope you've loved every single minute
Bespoke Irish Travel Planning
€120.00 – €380.00
Choose from one of four options depending on your trip requirements;
Bronze – 3 nights- I have accommodation sorted €120
Silver – 3 nights – I want you to choose a location and find accomodation €150
Gold – 5 nights – I have accommodation sorted €220
Platinum – 5 nights – I want you to choose a location and find accomodation €250
Road Trip – I want you to choose up to 3 various locations and find accomodations (up to 8 days) €300
Hen Party – Weekend Hen Party, location, accommodation and activities €350
Honeymoon – Up to 7 nights – An incredible Irish Honeymoon planned including accommodation, activities and restaurants €380
Additional information
| | |
| --- | --- |
| Experience Package | 1. Bronze, 2. Silver, 3. Gold, 4. Platinum, 5. Road Trip, 6. Hen Party, 7. Honeymoon |